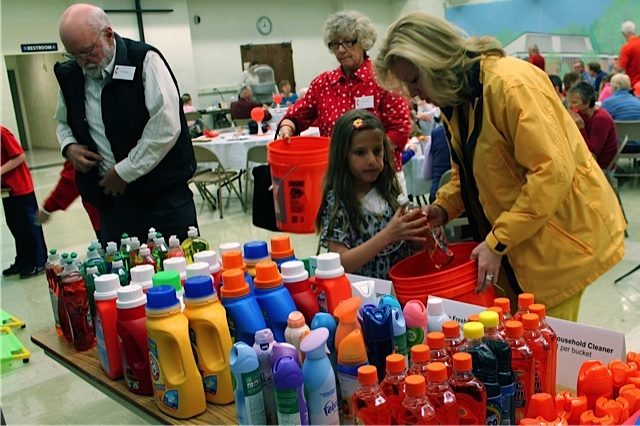 MARCH MISSIONS
February 's CHUM dinner was a super success.  Thank you all who prepared the meal, served, brought desserts and cleaned up. The people at CHUM were so appreciative not only of the meal but of the warm atmosphere of the dinner.
March is Food Share Month. We will be collecting for the CHUM food shelf.  All food donations are needed, especially canned soups; chicken noodle, tomato and vegetable beef, plus canned tuna and salmon.  Donations will be      accepted through the month, there will be baskets set out to drop your food off.  Cash donations will be matched through various programs so you can double or triple your assistance with this kind of donation. .
There is an opportunity for you and your family to attend upcoming Mission trips.  One is in May to learn about UMCOR, the other one is in June to the Settlement in Frakes, Kentucky.  If you are interested in attending, please contact Robyn Christianson or Pastor Laurie
United Campus Ministry Dinner
UCM  hosts a dinner most Monday nights for college students in the Hope Fellowship Hall at 5pm. Local congregations who support UCM take turns preparing and serving the meal to the students.  Hope will make the meal on Monday, March 12  Would you like to hang out with some college students for a night and feed them a nutritious meal?  Please let Pastor Laurie or Robyn Christianson know if you can help!
Easter Offering
This year's Easter offering will be divided between two       organizations:
Hurricane Relief  through UMCOR to continue to help those in the United States and Caribbean rebuild their lives and their communities. There is still much work to be done all of these months after the hurricanes. First Witness Child Advocacy Center is a safe, child-friendly place for victims of child sexual and physical abuse to tell their story. The team protocol requires just one record, child-centered interview at the First Witness building in Duluth. Their goal is to make sure children are safe. The Services Include: Evaluation and Assessment, Family Services, Prevention & Training.
Kids Closet
Kids Closet wishes to thank the members of Hope for their colorful gifts of hats, mittens, socks, underwear and books. There were 102 items in all!
At the end of December we served 1003 children and they keep coming.
Where to take your Donations?
Are you in the mood to sort out your closets, the nooks and crannies of your house or apartment?  Well, we thought we'd let you know of some places around the Northland that accept donations of different types of items!
First, consider donating to the 50 Cent Sale the week of September 28th!  After that, here are some options:
Clothing:
Damiano Center (all types)
Safe Haven (women's or children's)
Seafarers (men's)
Bethany Crisis Nursery (baby clothes)
Kitchen items and toys:
Damiano Center
Safe Haven
Furniture:
Harbor House in Superior
Aluminum cans:
To Hope's fellowship hall, proceeds to Heifer Project
Glossy paper:
To Narthex, proceeds/Imagine No Malaria
There are drawers in the Narthex for the following items:
Campbell Soup Labels to Myers-Wilkins Elementary
Pop Tops for Ronald McDonald House
Box Tops for Education for Myers-Wilkins Elementary
Mini shampoos and conditioners for CHUM Shelter
Old cell phones
Ways to live out our Mission ~ Get involved!
MENTOR DULUTH:  With 250 kids currently occupying its waiting list, a local YMCA program, Mentor Duluth, looks to recruit 75 mentors in 75 days. Community members can apply to Mentor Duluth's program and be matched with a child to help motivate, support, and make differences in their lives.
The idea to recruit 75 mentors was inspired by the program's 75th   anniversary, which is being celebrated this year. Twenty-two members have joined since the program's recruitment started on March 1, and the opportunity to enroll as a volunteer will continue through the second week in May.  Website:  http://mentorduluth.org/.
Retired and Senior Volunteer Program is recruiting volunteers 55 and older to fill the following positions. Call (218) 409-5991 for more information.
Activity helper: Lincoln Park Community Senior Center seeks friendly and outgoing volunteers to assist the coordinator in providing activities for guests. Responsibilities include distribution of food items for Nutrition Assistance Program for Seniors, scheduling appointments, making popcorn and coffee, light cleaning and creating a warm and welcoming environment. Volunteers must have good people and phone skills.
Bone Builders: Class leaders are needed for Bone Builders, a weight-training program that prevents and reverses osteoporosis by increasing muscular strength and bone density. Other benefits include improved balance, enhanced energy and well-being and increased opportunities for  socialization. Bone Builders groups meet twice weekly. Training is provided.
St. Scholastica Monastery: Volunteers are needed to work in a variety of different positions such as the gift shop, front desk and driving. Volunteers must have good people skills.

Missions & Local Outreach